A stockwhip is the preferred whip by stockmen, circus performers and competitions whipcrackers in Australia. My stockwhips have a plaited belly and the inside of the handle is fibreglass. You can have a look at the gallery at the bottom of this page for stockwhips that I have made. I can make any length whip and amount of strands you want. Just get in touch with me and I will give you a price if it is not here. Anything above 16 plait in a stockwhip is classed as a collectors item. My whips are used and recommended by World Whipcracking Champion, Ben Hughes. Two tone is and extra cost of $40.00. A certificate of Authenticity an extra $10.00 and a Brass or Stainless Steel Ferrule on the handle is an extra $80.00. Initials can be plaited in the handle on 16 plait Handles in two tone at no extra cost. Also see Colours. To order go to ordering. If you just have a general question feel free to email me. See Matched Pairs for a set of Competition Whips. My stockwhips are numbered from No.1 onward with a brass pin in the knob which shows the number of the whip and my name.
If you want a cheaper alternative to kangaroo hide then visit my other site with Latigo Stockwhips which are kept in stock.
All my kangaroo stockwhips have a unique plaited keeper for extra strength and control.

Prices in Australian Dollars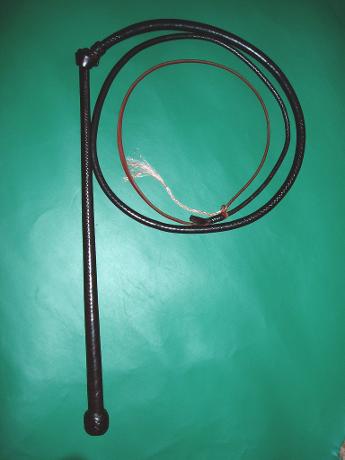 Kangaroo Hide Stockwhip, 8plait,with 12plait Handle (picture example only)
3ft, 8plait = $ 375.00
3ft, 6in 8plait = $ 385.00
4ft 8plait= $ 400.00
4ft 6in, 8plait = $ 420.00
5ft, 8plait = $ 445.00
5ft, 6in 8plait = $ 485.00
6ft, 8plait = $ 525.00
7ft, 8plait = $ 575.00
8ft, 8plait = $ 640.00
9ft, 8plait = $ 725.00
10ft, 8plait = $ 795.00
Each whip comes with a spare fall, 5 extra crackers and a container of leather dressing.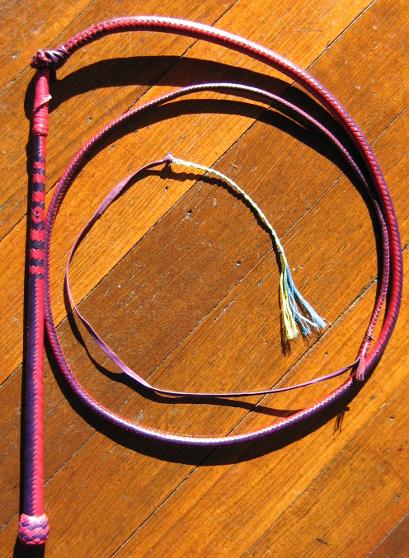 Kangaroo Stockwhip, 12 plait with 16 plait handle. (picture example only)
3ft, 12 plait $460.00
3ft, 6in 12plait $4800.00
4ft 12plait $500.00
4ft 6in, 12plait $530.00
5ft, 12plait $550.00
5ft, 6in 12plait $605.00
6ft, 12plait $625.00
7ft, 12plait $725.00
8ft, 12plait $795.00
9ft, 12plait $865.00
10ft, 12plait $965.00
12ft, 12plait $1085.00
25ft, 12plait, 16plait half handle $2660.00
Each whip comes with a spare fall, 5 extra crackers and a container of leather dressing.
For other sizes and plaits feel free to contact me for a price.
Ben Hughes Signature Stockwhips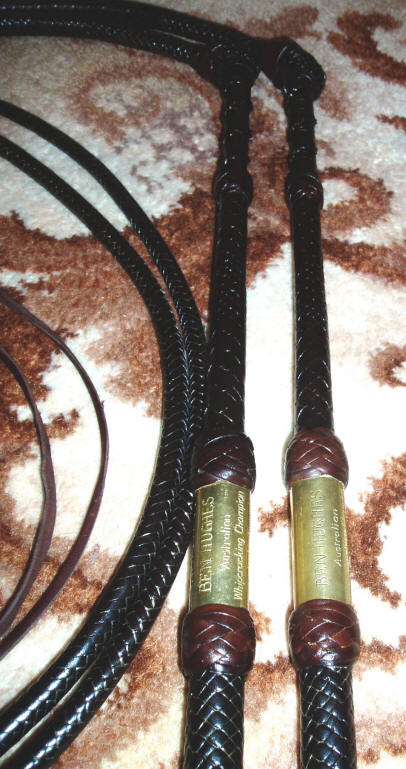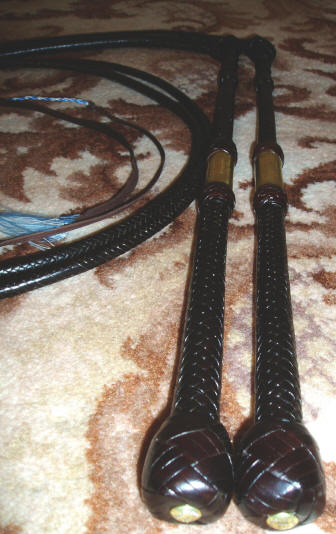 These uniquely designed whips were used by Ben Hughes to win the WWAC World Whipcracking Championships.
They are available in 5ft, 5 1/2 and 6ft lengths in "Brandy" colour only. The thong is 12plait, and the Handle 16plait with chess board plaiting. The brass ferrule will have engraved on it "Ben Hughes, Signature Stockwhip No# Handcrafted in Tasmania by Simon Martin." A certificate of Authenticity will also be included with them.
Price is $1380.00 per/pair + Postage for the 5ft Matched Pair
Price is $1,495.00 + Postage for the 5 1/2ft Matched Pair
Price is $1575.00 per/pair + Postage for the 6ft Matched Pair
Whip Basics - Robby Amper Signature Stockwhip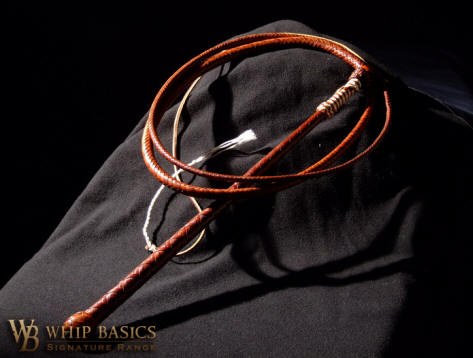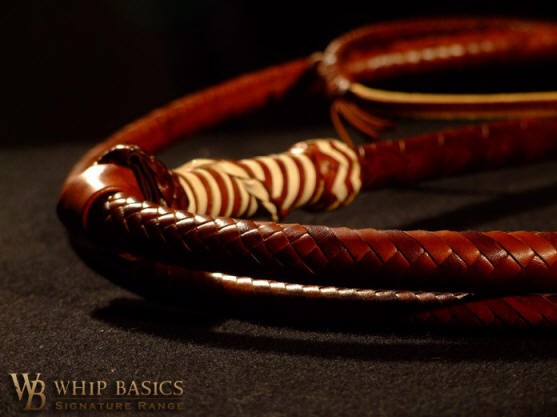 The above Stockwhip was handcrafted for Robert Amper (Germany) who used the stockwhip in his Whip Basics Dvds' Click on the top image to go to his website. Here you will find links to other whipmakers that also have a WB Signature whip. My stockwhip is a 6ft, 12plait with 16plait handle. It features birds-eye braided handle with a 2 tone grapevine keeper hitch. Comes with a signed certificate of Authenticity.
The whip will cost you $650.00 + shipping.
WARNING: DO take care when cracking your whip, make sure there is no one near you. When a whip cracks the tip is travelling at over 1400 feet per second. That is faster than the speed of sound and in some cases faster than a bullet. If your whip hits anything or anyone when it cracks it is quite capable of cutting flesh and breaking bones. So DO be careful.