IF YOU ARE A WHIP COLLECTOR, THEN I CAN MAKE A WHIP FOR YOU !
If you would like a true show piece and a 1 ONLY to hang on the wall then this is it !! My whips have received a number of awards including 1st place at the Sydney Show in 2007 and the "Standard of Excellence" award at the same show. Please let me know if you would like me to enter a whip for you in the Sydney Show.
These whips are one of a kind, and take many hours to produce. Whips with 20 strands and above in a stockwhip, and 24 strands and above in a bullwhip or snakewhip are really a whip for the collector. The most strands I have plaited so far is 48, but am willing to do more if you want. Get in touch with me and tell me what you would like and I will give you a price. Most collectors pieces are valued from $1,700.00 onwards. The whips come with a personally signed (by me), laminated certificate showing the whip No. (in its type), the date it was finished being made, and who it was made for. To order go to Ordering.
Some of the whips pictures below have over 60 hours of work in them. The 8ft, 40plait bullwhip that I made below had over 150meters (450ft) of strand length just on the overlay alone.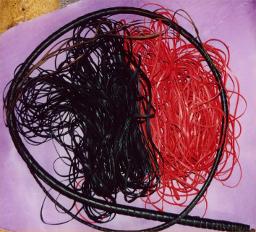 Limited Edition Whip Pictures