A lot of people make the mistake of buying a big whip to do tricks with when they are learning, I recommend a 4 1/2 ft - 5ft stockwhip or 6ft - 6 1/2 ft bullwhip for beginners. Shorter whips for fast tricks and longer whips for slower tricks. Can you juggle? If you can you will find this will help you pickup two handed whipcracking quiet quickly as it helps with left/right hand coordination. On all my Matched Pairs I use kangaroo hide falls (unless you want Latigo hide falls). Most people say "That doesn't look very strong", but I assure you it will way outlast any other leather, and it really makes the whip crack perfectly. You do have to keep an eye out for knots in them though, especially if you are a beginner. It is always handy to have a fid with you to get the knots out. The fid is available in the Whip Repair and Maintenance Kit. If you keep cracking they get very difficult to undo. I use a poly/synthetic fibre string for the cracker. I have tried a number of different strings and have found this the best and it is also used by the experts. A stainless steel or brass ferrule on the handle, engraved is an extra cost of $75.00 per/whip (You can have your name engraved on it as well, at no extra cost). The whips come with a spare fall each, 5 extra crackers and a container of leather dressing. A Certificate of Authenticity is an extra cost of $10.00. Two tone is an extra cost of $40.00 per/whip
My whips are used and recommended by WORLD Whipcracking Champion, Ben Hughes. See Ben Hughes Signature Whips below. I can make any length whip you want. Just get in touch with me and I will give you a price if it is not here. Have fun and get CRACKING!!
Prices in Australian Dollars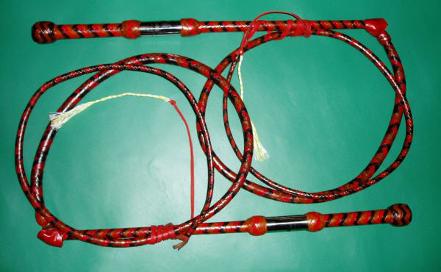 Kangaroo Hide Stockwhip, 8plait,with 12plait Handle (pictures example only)
3ft, 8plait = $ 650.00
3ft, 6in 8plait = $ 670.00
4ft 8plait= $ 690.00
4ft 6in, 8plait = $ 730.00
5ft, 8plait = $ 780.00
5ft, 6in 8plait = $ 840.00
6ft, 8plait = $ 890.00
Each pair comes with spare fall, 6 extra crackers and a container of leather dressing.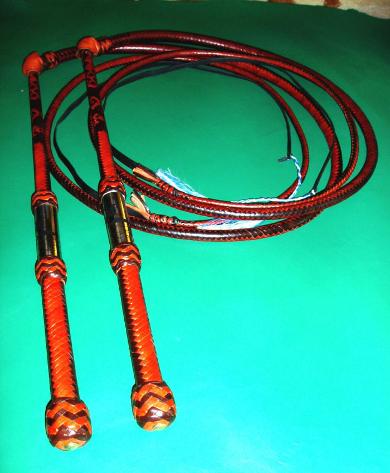 Kangaroo Stockwhip, 12 plait with 16 plait handle. (picture example only)
3ft, 12 plait $800.00
3ft, 6in 12plait $840.00
4ft 12plait $880.00
4ft 6in, 12plait $920.00
5ft, 12plait $960.00
5ft, 6in 12plait $1050.00
6ft, 12plait $1090.00
Each pair comes with spare fall, 6 extra crackers and a container of leather dressing.
For other sizes and plaits feel free to contact me for a price.
WARNING: DO take care when cracking your whip, make sure there is no one near you. When a whip cracks the tip is travelling at over 1400 feet per second. That is faster than the speed of sound and in some cases faster than a bullet. If your whip hits anything or anyone when it cracks it is quite capable of cutting flesh and breaking bones. So DO be careful.
Bullwhips & Snakewhips
I can make any sized pairs of these and the prices are just the same as the individual price but x 2.