Western Quirts
This Western quirt is 18 inches long, with a 12inch double tail, it is shot loaded and has a wrist loop .Two tone is an extra cost of $40.00. A certificate of Authenticity is an extra $10.00 and a Brass or Stainless Steel Ferrule $80.00. Initials can be plaited in the quirt on 16 plait, in two tone at no extra cost. Also see Colours. To order go to ordering. If you just have a general question feel free to email me. My quirts are numbered from No.1 onward in there type with a brass pin in the knob which shows the number of the quirt and my name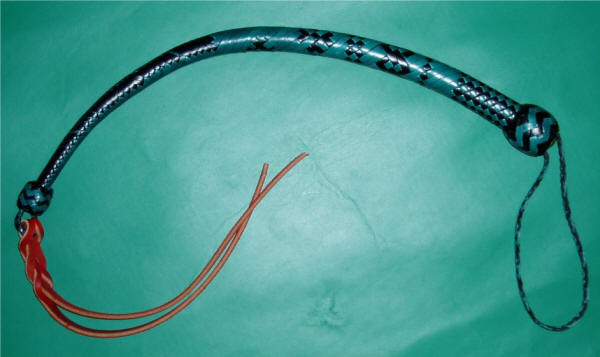 Kangaroo Hide Western Quirt
18in, 12plait $290.00
18in, 16plait $335.00
18in, 20plait $400.00
18in, 24plait $480.00
24in, 20plait $480.00
Other sizes or plaits can be made on request.
Riding Crops
These equestrian riding crops come in a child's size which has a 16in (40 cm) fibreglass handle, and the adult size is 23inches (60cm). Two tone is an extra cost of $40.00. A certificate of Authenticity is an extra $10.00. Also see Colours. To order go to ordering. If you just have a general question feel free to email me. My Crops are numbered from No.1 onwards with a brass pin in the knob which shows the number of the crop and my name. If these crops are not the size you are after get in contact with me and I can make it how you would like it.
Please contact us for postage costs on riding crops it will be less than normal shipping.

Kangaroo LeatherChilds Riding Crop 40cm
$140.00 8 plait
$ 175.00 12 plait
Kangaroo Leather Adults Riding Crop 60cm
$ 200.00 8 plait
$ 240.00 12 plait
Other sizes and plaits can be made on request.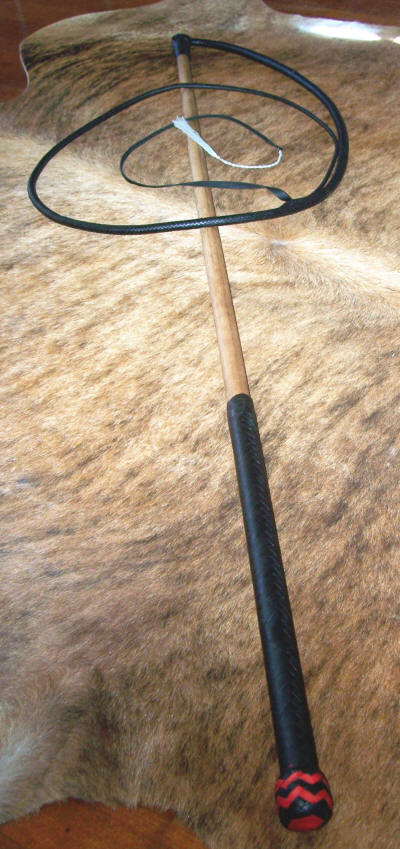 Bullock Whips
SHIPPING FOR A BULLOCK WHIP will incur extra cost as it's over standard length for shipping. Contact me to get a quote.
Kangaroo hide , 12plait Bullock Whip with 5ft +, 16 x 1/3rd plait handle
Two Tone extra $40.00
8ft Thong = $805.00
9ft Thong = $895.00
Other Plaits or lengths can be made on request.